Aging In Place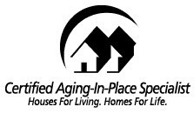 Gibson & Anderson employs a Certified Aging-In-Place Specialist.

What is Aging-in-Place?

In plain English, aging-in-place means remaining in one's home safely, independently and comfortably, regardless of age or ability level. It means the pleasure of living in a familiar environment throughout one's maturing years, and the ability to enjoy the daily rituals and the special events that enrich our lives. It means the reassurance of being able to call a house a "home" for a lifetime.
- NAHB


Are you building your retirement dream home?

Will you be caring for someone elderly or disabled in your home?

Are you a busy mom who usually enters your home with your hands full?

If you answered "yes," to any of the above, we invite you to sit down with us to incorporate Universal Design into the plan of your future home. Universal Design incorporates barrier-free, accessible design into your home with an emphasis on the importance of how things look. Why build a house that will require a future wheelchair ramp when it's possible to incorporate a stepless entryway today?

Common elements of Universal Design available for customization in your Gibson & Anderson home:
- Main level living - Integrated home automation systems
- Widened doorways and hallways - Levered door handles
- Stepless entryways - Grab bar blocking
- Lowered light switches - Rocker-style light switches
- Higher electrical outlets (less stooping) - Curbless showers
- Hand-held shower heads - Lowered vanities with wheelchair access
- Front-mounted kitchen appliance controls - Cabinetry with handles versus knobs
- Shower seats and shelves - Comfort-height toilets
- Levered vs. knob plumbing fixtures - Roll-out cabinet shelving
- Additional lighting - Switched electrical outlets

Please speak with any of our sales associates about customizing your next new home!